Trong bài viết này Huyền xin chia sẻ một số cụm từ đồng nghĩa rút ra từ việc phân tích bài mẫu IELTS Writing Task 1 dạng Process. Thời gian gần đây, Huyền thường phân tích hai tới ba bài mẫu cho cùng một đề, để Huyền có thể học thêm cách triển khai, sự đa dạng về từ vựng mà mỗi tác giả sử dụng.
Dưới đây là hình ảnh ba bài văn mẫu Huyền phân tích:
Huyền phân tích chi tiết cách từng tác giả viết mở bài, tổng quan và hai phần thân bài. Từ việc phân tích đó Huyền rút ra được rất nhiều cụm từ đồng nghĩa:
Phần mở bài
cement production có các đồng nghĩa:
… the stages and equipment used in the cement-making process
… the process of cement manufacture
… the way in which cement is made
… the phases and apparatus to make cement
concrete production có các đồng nghĩa:
… how cement is used to produce concrete for building purposes
… the materials that go into the production of concrete
… how it is then used in the process of making concrete
… how cement is utilised in the production of concrete for construction
Phần tổng quan
there are five stages in the production of cement = the production of concrete involves a five stage, linear process
begin with the input of raw materials = begin with the mixing of raw materials
end with bags of the finished product = culminate in the packaging of new cement
Phần thân bài 1
mixing:
to be mixed before it passes into a rotating heater
to be then combined in a mixer before passing into a rotating heater which has a constant heat applied at one end of the tube
to be then mixed before being passed through a rotating heater
grinding:
to be ground, and cement is produced
to be ground in order to produce cement
travels over a conveyor belt and is ground through a grinder
packaging:
to be packaged in large bags
to be afterwards put into bags ready to be used
to be packaged and transported to a building site where it can be used to make concrete
concrete production
… consists of mainly grave = is made up of half gravel
all four materials are blended together in a rotating machine called a concrete mixer = these are all poured into a concrete mixer which continually rotates to combine the materials and ultimately produces concrete= all of these are added together in a cylindral drum and rotated until concrete is yielded
Huyền thường ghi chép lại các đồng nghĩa vào vở để sau này tiện cho việc ôn tập: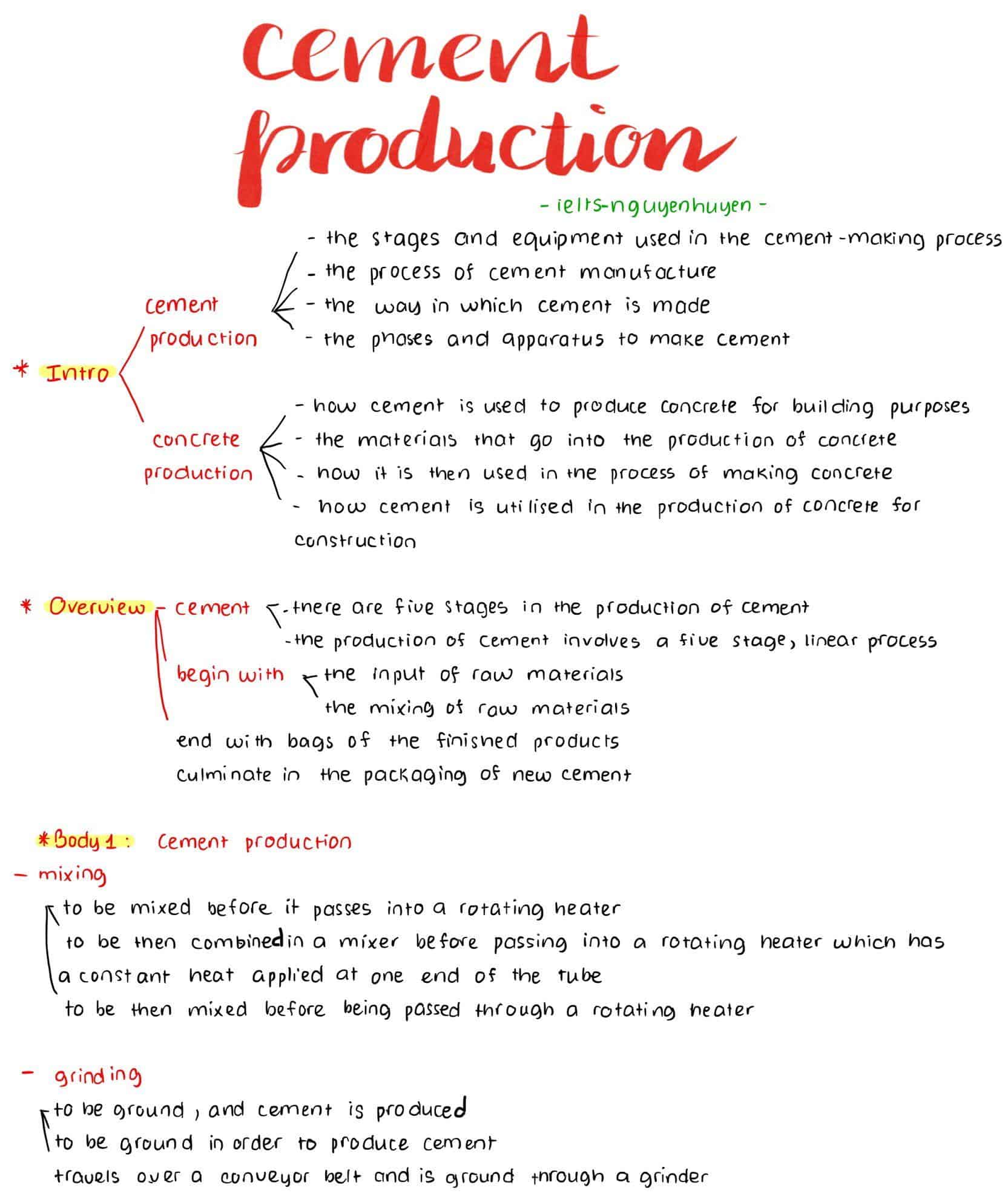 Mong rằng bài viết hữu ích với bạn nhé.